Press release
< Activity Plan for rest of 2008 and 2009 >

◇ Continue to send the recommendation of top level Japanese fighter to the WBC Muaythai fight overseas.
◇ Support who adopt WBC Muaythai Rules and Regulations with in Japan.
◇ Make appeal to challenge the International Title match for Japanese fighter in overseas fight.
- FIRST JAPANSE UNIFIED CHAMPIONSHIP by WBC MUAYTHAI RULES AND REGULAIOTNS -
The press conference of Japanese Championship tournament under WBC Muaythai Rules and Regulations took place on June 13th, 2009 at Korakuen Hanten, Tokyo, Japan with Chairman of New Japan Kickboxing Federation (NJKF), Kyoji Saito, Chairman of Martial Arts Japan Kickboxing Federation (MA), Toshihiko Hashimoto, and the representative of Japan Professional Muaythai Committee (JPMC), Chisa Yamane.
There were several fights under WBC Muaythai Rules and regulations took place since January of 2009, which leads to this Japanese Championship tournament for 8 weight classes, which will take place from July of 2009.
Chisa Yamane has read the greeting letter from Secretary General of WBC Muaythai and board of Governors of WBC Mr. Patrick Cusick.
JPMC feels that this is a step ahead to make WBC Muaythai more popular in Japan. JPMC will propose those Champions to fight overseas with help of WBC Muaythai head quarters, which makes Japanese excellent fighters to be close from becoming the International and World Champion in a near future.
There are national champions in US, Mexico and several other countries which maybe we could do fights with other country's champions.
The tournament and champion will be supervised with committee, which will be formed by NJKF, MA and JPMC.
There will be proper ranking once the tournament will be taken place for each weight classes under the WBC Muaythai Rules and Regulations, which will be reported to WBC Muaythai headquarters.
"It starts with NJKF and MA but soon to be larger once it gets moving involving many other fighters in Japan."said by Chairman Saito. It means a lot for present kick boxing situation in Japan that many organizations did not associate with each other.
JPMC strongly hope that this will create some new excitement within Japan of which one of the purposes is to have fighters fight with each other without any political conflict.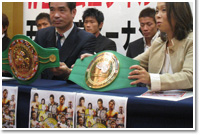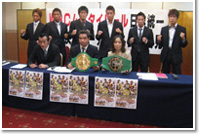 JPMC
I would like to thank both chairman, Mr.Kyoji Saitou of NJKF and Mr.Kengo Miyagawa of MA Kick Boxing for using WBC Muaythai Rules and Regulations for unified ranking fights.
Japan Professional Muaythai Committee is the representative of WBC Muaythai in Japan, which support the Japanese fighters who wish to fight for the WBC belt. In the scheme, keep generate to have Japanese fighter fight overseas at WBC Muaythai fight. For recommending the Japanese fighter, JPMC will form the recommendation Committee to send the recommendation to WBC World ranking committee. It will standardize the ranking by using WBC Muaythai Rules for unified ranking fights between both organizations.
By using WBC Muaythai Rules, we would like to make appearance of WBC Muaythai to be able to have the World title match in Japan sometime in a future.
For the World ranking of WBC Muaythai, the Japanese fighter who fought in Japan based on SAT rules in Thailand will also be included.
Once again, thank you very much for your support. We will keep trying to do our best.
Japan Professional Muaythai Committee

Representative/ Chisa Yamane