Interview of Chairman of WBC Muay Thai
"WBC Muay Thai will spread Muay Thai as world wide sport"
Kovid Bhakdinhumi is also the Vice Chairman of World Boxing Council besides being the chairman of WBC Muay Thai, he is the person of influence for both Muay Thai and Boxing. He was involved in the World dream match of Oscar dela Hoya and May Weather last May. He showed full of energy despite the fact the he is 70 years old when he was interviewed asked about Muay Thai.
--When did you start your relationship with Muay Thai?

I played Muay Thai when I was in elementary school. Everyone in Thailand start Muay Thai when they are children. I also did boxing as well.

--How was your skill?

Only playing at school on both Muay Thai and Boxing. Champion? I did not think of it at the time,

--Where did you learned English since you speak very good English?

I lived in San Francisco and went to the college from 1957 until 1962. By that time, there were no Muay Thai in San Francisco. There might have been some individuals, but not and organization that I know of.

--What did you do after you come back to Thailand?

Police department. I work for Police for over 30 years. I spent many years at international department. That is why I have strong relationship with many international polices. I used to be in contact with Japanese Police at the time.

--I see

After I retired from Police, I was elected to the top of Asian Boxing Council = (ABCO under the organization of WBC). Since then my relationship with boxing continues. Ever since then, I was hoping to have some desire to have Muay Thai under WBC.

--Are you the one who thought of starting Muay Thai under WBC?

Chairman of WBC, Jose Slaiman and I have discussed it and started 4 to 5years ago. The awareness of Muay Thai has been high. If the largest sanctioning body of Boxing, WBC authorize the Muay Thai, it will be more popular in the world.

--Did Dr. Jose Slaiman accepted the idea?

Muay Thai is very self defense distinguished martial arts That is why Dr.Slaiman understood from the beginning.

--In Thailand, there are two large stadiums, Rajadamnern and Lumpinee and both sanction the championship and ranking. Among these situation, what will be the role of WBC Muay Thai?

Of course, both Rajadamnern and Lumpinee's titles are very effective in Thailand But through WBC Muay Thai, it is to spread Muay Thai world wide.
"Japanese people like what's real. That is why Muay Thai is what it is wanted"
--Why do you think Muay Thai was not spread world wide?

There were many small groups which did not last for long. We will follow the WBC Muay Thai rules and conduct fights and events in a proper manner. That is what differentiate from others.

--How many countries participate in WBC Muay Thai?

WBC boxing has 163 countries thus WBC Muay Thai has close to 100 countries. Hopefully all 163 countries will participate in WBC Muay Thai as same as Boxing.

--Do you think WBC Muay Thai will grow in next 5 to 10 years?

Yes definitely grow. Muay Thai is such a wonderful martial art. I strongly believe that many more people will be keen to the attractiveness of Muay Thai.

--What do you think of other martial arts like Muay Thai?

There are some that is more driven to show business. I have heard that Kick Boxing was born because Muay Thai was hard to say in Japan. There are many cases that name and rules were changed from Muay Thai . I would like to make a modification and introduce real Muay Thai.

--Do you think there is great chance for Muay Thai to be more popularized in Japan?

"Japanese people like what's real. That is why Muay Thai is what it is wanted"

--What do you expect from JPMC?

The most important factor is to have enthusiasm and to act. In this case, staff of JPMC has enthusiasm that I am sure about.

--Do you think both Muay Thai and Boxing will coexist and grow together?

Muay Thai and Boxing are two different sports which does not make any conflict. Affiliation has been made already in the USA and Europe. My role is to make Muay Thai more popular around the world.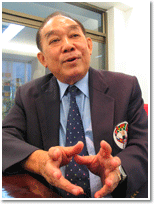 Kovid Bhakdibhumi
Born on March 30th 1938. Born in Parngtorng Thai land.
WBC Muay Thai Chairman
WBC Vice Chairman
ABCO Chairman
Visited Japan over 10 times while working for police and boxing.